Posted by Dan Shelton, Last modified by Dan Shelton on Apr 29 2016 07:11 AM
ProCirrus includes two methods for email archival

1) An online archive that is stored within Exchange that is accessible from Outlook and is designed for minimizing email stored in the primary email account.

2) An external compliance archive for both long term search and storage as well as e-discovery and compliance purposes. The compliance archive is accessible through an Outlook Add-In (May 2016) and a web interface.
Online Archive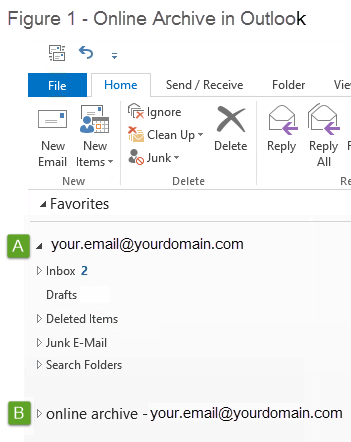 The Online Archive is a subordinate account to the user's primary email account and, if enabled, it is available from the left navigation pane in Outlook. In Figure 1, [A] is the primary email account folder and [B] would be the online archive folder. User can access, search and manipulate the email in the online archive exactly as if working in their primary email account.

Email will only appear in this sub-account if the firm has established a policy to prune email from the primary Exchange account.

The primary advantage of the personal Online Archive, is to provide easy access to older email while reducing the quantity of email in the user's primary email account which will improve the performance (i.e. search speed) of Outlook

For example: If a firm sets a 12 month pruning policy of their email accounts, the primary account ([A] in figure 1) would only have email newer than 12 months old and the online archive ([B] in figure 1) would have all emails 12 month old and older.

NOTE: Users can delete emails from their personal online archive


Compliance Archive

The Compliance Archive captures every email into and out of the firm's email accounts and cannot not be deleted or edited by end users. The emails are stored outside of Exchange on the firm's private ProCirrus cloud storage. This archive is available to be searched from a web portal at https://archive.procirrus.com. An Outlook add-in for archive searches will be available by June of 2016.

There are several advantages of the Compliance Archive.

1) All email is captured for e-discovery and regulatory compliance.
2) Users can easily find lost or old emails on their own.
3) Allows to firm to reduce their Exchange Storage and maintain long-term email storage.

Accessing your Compliance Archive

1) From the ProZone via the link shown right (it may need to be added to your ProZone Favorites)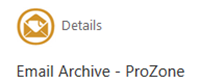 2) From the web at https://archive.procirrus.com
3) An Outlook add-in for archive searches will be available by June of 2016.
Using the Compliance Archive

Once you navigate to https://archive.procirrus.com, you will be prompted to log in with your normal system credentials.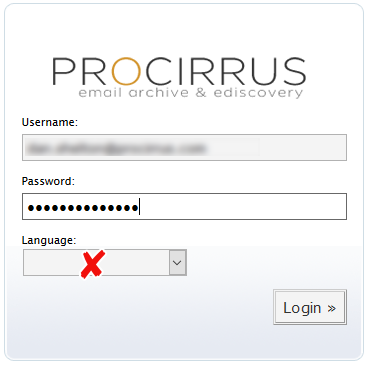 You may ignore the Default Language drop down as it defaults to English.
Archive Home Page


1) The Help file has a lot of great tips about refining your search criteria.
2) Enter your search terms in the fields.
3) You can add new search options to the existing ones like attachments etc.
4) Each field has additional options on searching like "contains" or "exactly" etc.
5) The Search button executes the search and puts the email results in the results accordion below

Search Results Example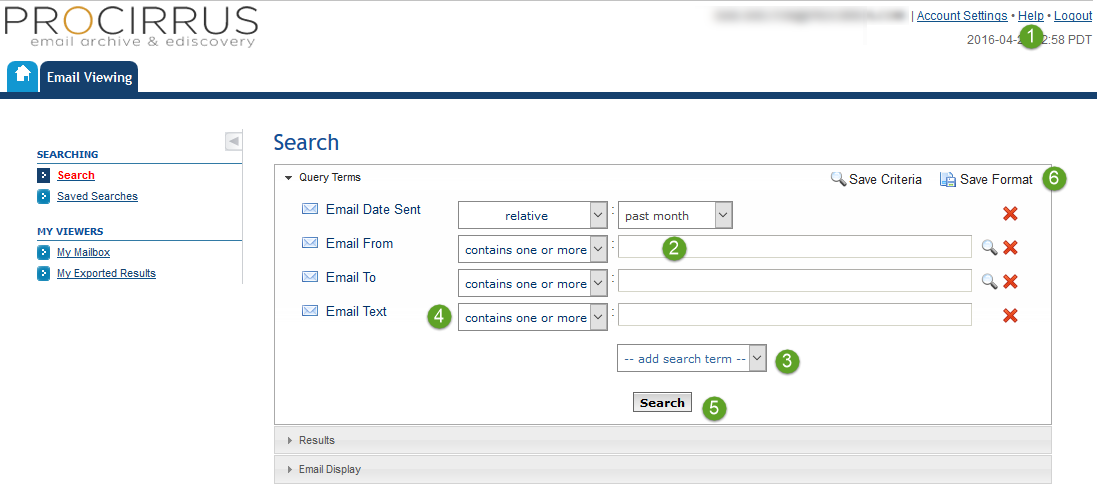 1) You can select one or more of the results and act on them.
2) You can Export, Forward or Print results. To quickly reuse an email, just forward it to yourself.
3) To review the email, click on the email subject line.
4) The email contents will display below in the Email Display accordion.
---